American Society of Ophthalmic Plastic and Reconstructive Surgery
Dr. Tim Carey has been a member of The American Society of Ophthalmic Plastic and Reconstructive Surgery ( ASOPRS ) since 1991. He was one of the youngest members every admitted to this prestigious society. Byron Smith MD, is considered by many to be the founder of Oculoplastic Surgery ( and ASOPRS ). He  returned from  the battlefields of Normandy France in 1945 after dealing with the terrible injuries of WWII. In Europe during WWII, no one really knew how to deal with injuries around the eye, eyelid, and the orbital tissues including the bones that surround the eye. Dr. Smith took it upon himself to treat these complex facial injuries involving the eyelid and orbital area. He returned to the United States following the war and trained a few select ophthalmologists that had finished their ophthalmology residencies in the art of oculoplastic surgery thru Oculoplastic fellowships. One of those physicians was Dr. Bob Wilkins from Texas. Dr. Wilkins along with other "Byron Smith" fellows ( or doctors trained under Byron Smith) formed The American Society of Ophthalmic Plastic and reconstructive Surgery ( ASOPRS ). The Society was founded in 1969 to establish a qualified body of surgeons who have training and experience in this specialized field of surgery. Dr. Carey, having been trained by Dr. Wilkins is considered a second generation Byron Smith fellow. So one man , Byron Smith is literally responsible for the training of generations of Oculoplastic surgeons in the United States.
The purpose of the Society is to promote study, research, and training in ophthalmic plastic and reconstructive surgery.
Fellowship in the American Society of Ophthalmic Plastic and Reconstructive Surgery indicates the surgeon has special interest and training in this subspecialty, and that he or she is board certified by the American Board of Ophthalmology or its equivalent. While board certification and fellowship cannot guarantee a perfect surgical result, these credentials do identify the member surgeon as on who has met specific training requirements.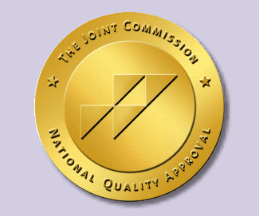 Joint Commission Certification
The Eye Clinic of University Village is accredited by the Joint Commission on Accreditation of Healthcare Organizations (JCAHO). "This means the Eye Clinic of University Village Surgery Center underwent a thorough, on-site evaluation against more than 150 standards that promote quality care and patient safety," says Michael Kulczycki, executive director, Ambulatory Care Accreditation Program, The Joint Commission. "Their decision to pursue this voluntary process demonstrated their commitment to providing high-quality care in a safe office environment."
"We sought accreditation for our organization because we want to demonstrate our commitment to patients' safety and quality care," says Dr. Tim Carey, President. "We view obtaining Joint Commission accreditation as another step toward achieving that excellence."
The Joint Commission conducted an unannounced, on-site evaluation of The Eye Clinic of University Village in May of 2004 and again in May of 2007. The accreditation award recognizes the organization's dedication to complying with the Joint Commission's state-of–the–art standards on a continuous basis.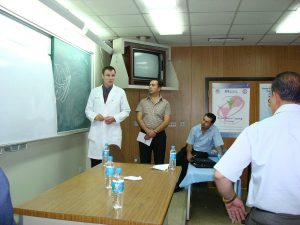 Special Lecture in Iraq
Founded in 1951, The Joint Commission seeks to continuously improve the safety and quality of care provided to the public through the provision of health care accreditation and related services that support performance improvement in health care organizations. The Joint Commission evaluates and accredits nearly 15,000 health care organizations and programs in the United States, including more than 8,000 hospitals and home care organizations, and more than 6,800 other health care organizations that provide long term care, assisted living, behavioral health care, laboratory and ambulatory care services. The Joint Commission also accredits health plans, integrated delivery networks, and other managed care entities. In addition, the Joint Commission provides certification of disease-specific care programs, primary stroke centers, and health care staffing services. An independent, not-for profit organization, The Joint Commission is the nation's oldest and largest standards-setting and accrediting body in health care.
"Accreditation standards exceed federal and state requirements," says Gina Val Zimmerman, senior executive director, Business Development, The Joint Commission. "Furthermore, because this is a voluntary program, accreditation represents The Eye Clinic of University Village's decision to be recognized for its efforts to provide safe, quality care."